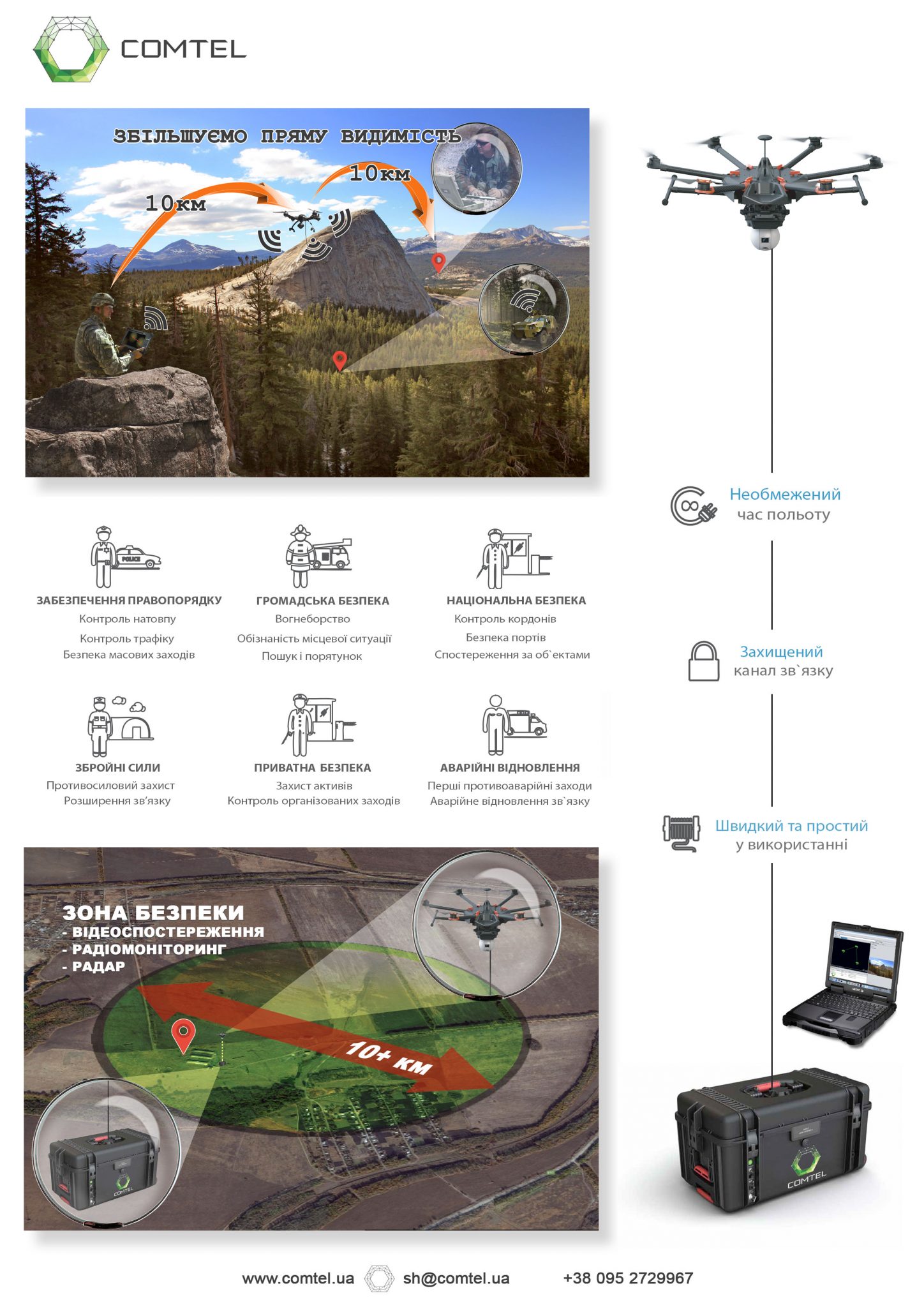 TETHERED SYSTEM - KEY FEATURES:
Up To 150m Length
Thanks to the innovative ultra-thin cable included, it is possible to fly tethered Multirotor up to 150m (500ft) height.
Unlimited Flight Time
Tether cable provides continuous power to the drone, so it Custom Power Source can fly permanently with no endurance limitations.
Custom Power Source
Powered from Vehicle power source (12V DC) or electrical grid (110 - 230V AC) for installation on permanent stations.
Self-Cable Winder
Autonomous system controlled by Autopilot controls cable release and collection, avoiding tangles and cable breaks.
HD Video & Data Transference
High bandwidth Ethernet connection for video and data transmission through cable, enabling a two-way communications channel.
Secure Communications
Cable data transmission enables safe data communications, avoiding jamming attacks and data piracy & capture at the time it avoids drone location.
Multirotor integration
Integrated with Multirotor Autopilot, we have an advanced monitoring station.
Real Time Video
Embedded high performance PC for real time video processing for target trackings, moving object detection...
RF Passive
No radio emission
TETHERED SYSTEM – SPECIFICATION:
Base Station:
Size: 632x632x364 mm.
Weight: <60 Kg.
Cable Size: 150 m.
Power Output: 2200 W.
Peak Power Output: 4000 W.
Cable Weight: 1,65 Kg. for 150 m.
Double Power Input AC: 2 x 230 V.
Power Input DC (optional): 12 V. + battery backup
Power Input AC (optional): 110 V
Multirotor:
Number of rotors: 6
Motor: Disk 4822 390kv
Propeller: Carbon 15x5.5
Size: 90x90x30 cm.
Payload: 3 Kg
Onboard electronic (each rotor):
Power Output Voltage: 24 V. <> 6S
Power Output: 300 W.
Weight: 160 g. => 0.5 g/W
Peak Power Output: 400 W