Have you tried create Live Skype interviews by the improvised facilities using  a computer with a scan converter, Decklink, virtual Directshow Camera and etc.?  Result has been far from ideal?
Now there is Talkshow by Newtek  - professional solution based on SkypeTX software by Microsoft.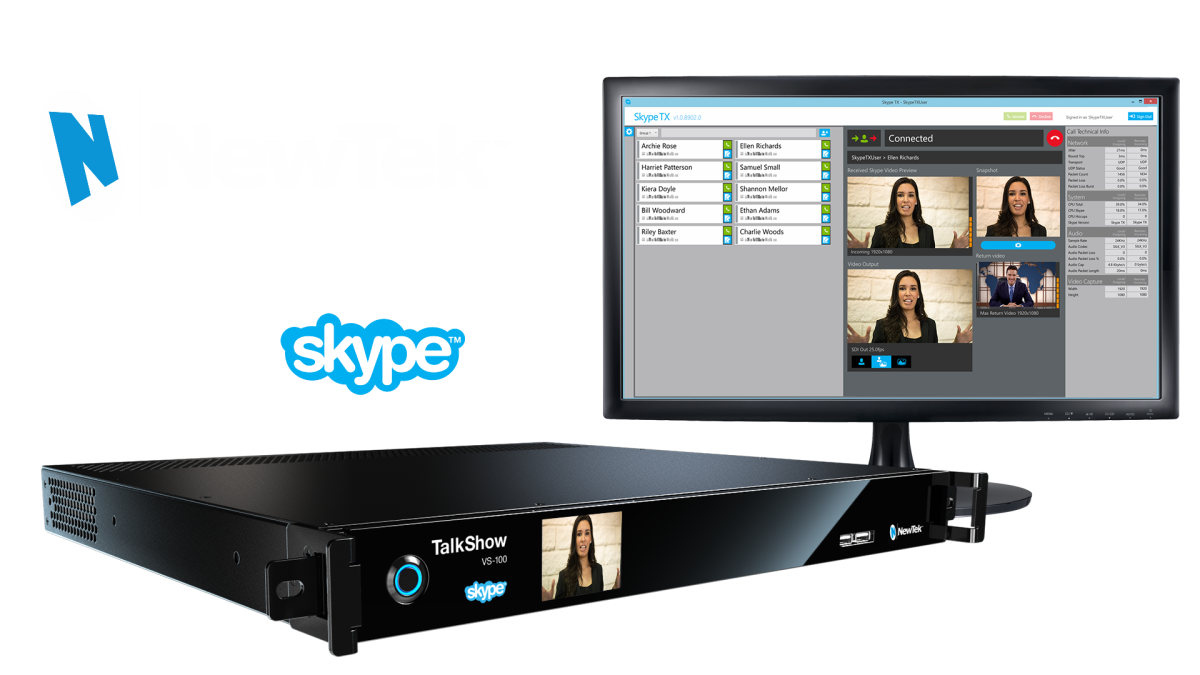 Price of the device is comparable to the cost of a set of traditional components to solve the same task: PC + capture card  + output card + management software - and you get the value Talkshow.
Why Build a dubious configuration when there is a reliable solution ready with thoughtful functionality:
We need a full-resolution SDI output - it is, even with synchronize capability
Analog audio output - please have a balanced stereo XLR outputs
We want to equalize the volume level - there is a built-in compressor/limtter and equalizer
Do not want to see the Skype watermark - have the ability to turn it off
Return video signal - of course, with sound and tally indication
We need to talk to caller before the ether and / or give a hint without interrupting the air - there is a button Talkback and a separate headset jack for moderator.

And that's not all!
Auto answer, calls without a confirmation, incoming audio and video recording, caller groups, color correction, Dante protocol support, the photo instead of video in low quality of communication, two Ethernet ports for the separation of the production network and the Internet ...

Choosing TalkShow by Newtek you get additional features not found in competing devices based on SkypeTX:
Integration with Tricaster over IP. A single Ethernet cable, and Skype is already connected to your Tricaster
Built-in compressor/limitter and 7-band equalizer for input and output
4-channel audio signals to transmit pure sound + minus
Support for Dante (digital audio over IP)
TalkBack feature to communicate with the caller via a dedicated headset
Color correction of input and output signals
Support for Tally
Automatic recording for replay or archive
See how it works in the video below: