We present our automated TOOWAY satellite internet search engine, designed and manufactured in Ukraine.
Application area such system quite extensive:
Mobile offices where is a need for better and faster Internet communication: mobile banking offices, border checkpoints service command and staff vehicles of the police or Ministry of Emergency Situations, the hardware connection, mobile television stations, machines for journalists with direct switching-on (DSNG).
For organization the temporary high-speed access to the Internet in remote places: events in the summer camps, local emergency consequences, organization temporary video observation with remote control. The system can be installed independently to the trailer with appropriate equipment.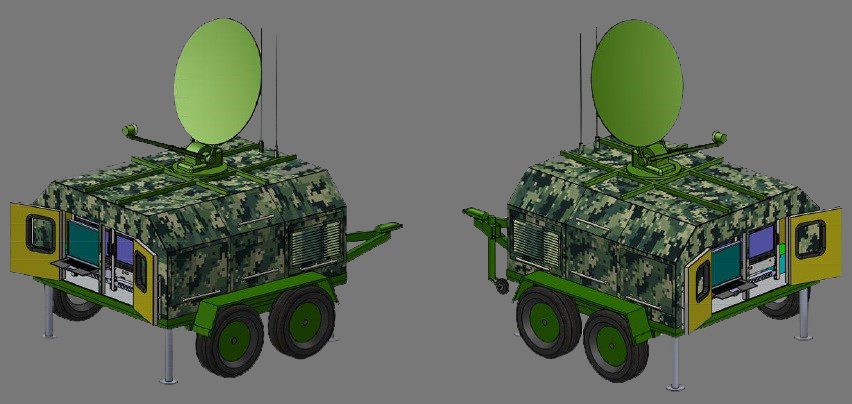 Can be used for multifeeding, that is simultaneous work with several satellites, by placing additional heads. For a more accurate setting, you can control the PTZ through RS-232 interface.
System Set:
control block;
rotating device;
GPS-receiver BR-355;
router Routerboard RB750 MikroTik;
set of cables.
Not included in the system (provided by user):
satellite modem Surfbeam 2 satellite modem RM4200;
satellite modem module power.
System specifications:
Type of satellite antennas

Mirror offset

Diameter of the mirror 75 cm.

Sensor deployment
GPS receiver, compass, direction sensor and a sensor elevation
The boundaries of the rotation in azimuth, º
360º, overlapping sectors at ± 200 º
The boundaries of rotation in elevation, º
-10…+80
The precision setting azimuth rotation angle, º
± 0,1
The Precision installation of the elevation angle, º
± 0,1
The speed of rotation in azimuth, º/сек

removable,

typical value -5

Time reversal system, minutes, no more
1
System clotting time, minutes, no more
1
Pointing the satellite time, minutes, no more
14
The maximum wind speed in the unfolded position, km / h
72
The maximum wind speed in the folded position, km / h
225
Operating temperature (ASA), º
-30…+55
Operating temperature (control unit, a modem, a router), º
+5…+50
Storage temperature, ° C
-35…+60
TX/RX cables
RG-6,10 м
Power cables
5 m, optional up to 60 m
Operating frequencies

RX 18.30 - 20.20 GHz;

TX 28.10 – 30.00 GHZ;

Supply voltage
~220 V±10%

Power consumption W, max

- hover

- operation when the power is on

150

10

Dimensions ACA folded mm, no more than
1380х750х350
Dimensions of the control unit, mm, no more
483х540х88
Weight, kg, no more
55
Weight control unit, kg, no more
15