Major trends in the world of digital television, a departure from the usual SDI to the modern IP, overview of the new signal transmission systems, standards and protocols.
SDI interface IP inferior in many aspects. Number and demand for new high-definition broadcast formats pushes SDI on the dusty shelf of archaisms. Nowadays it is not enough bandwidth conventional coaxial cables and previous standards. Ripened great need for a more flexible implementation and sending signals on modern IP television channel via remote broadcasting.
SMPTE
There are several versions of SMPTE standards, operating over IP interface:
SMPTE 2022-1
SMPTE 2022-2
SMPTE 2022-4
SMPTE 2022-6
SMPTE 2022-5
SMPTE 2022-7
Let's talk more about the most interesting and innovative.
1) SMPTE 2022-6 - performs encapsulation uncompensated signal (SDI) 3G / HD / SD formats. SDI signal completely with video, audio and additional data is encapsulated in HBRMT protocol (High Bitrate Media Transport Protocol). In turn, it is packed into RTP (Real-time transport Protocol) packets and transmitted over UDP. However, since this standard is outdated - it is unable to cope with the high volume of information. For example, in the 4K standard signal for this conversion will be required such 4 flow at the same time.
2) SMPTE 2022-5 - despite the index 5, the standard was released in 2013 (after 2022-6), and provides for additional compensation in the event of packet loss. Often used in the case of short-term attenuation (SD - max 33ms, HD - max 6ms, 3G - max 3ms).
3) SMPTE 2022-7 - replacing the previous version (SMPTE 2022-5) without the use of FEC (Forward Error Correction for Transport) technology. The intention is that the source subscriber is sent to the double of the basic package, and, if the attenuation of the basic package, the receiver automatically switches to a backup.
Protocol TR-03
The operating principle of the protocol TR-03 is to define a method for providing audio, video and data streams to service real-time IP network protocol mode means. TR-03 protocol separates into individual audio and video components, and then reassembles them in different combinations as required for industrial purposes. Thus, by limiting the transfer of excess flow of information, "without clogging" air.
Protocol ASPEN
This protocol focuses on new trends in television market, using the proven standards of MPEG-2 TS for the IP interfaces. ASPEN offers a reliable format for encapsulating uncompressed Ultra HD / 3G / HD / SD by the MPEG-2 streams. In combination with the current standard of the SMPTE, such as SMPTE ST 302, SMPTE ST 2038 family of standards and IP SMPTE 2022, ASPEN protocol provides a more flexible method of transporting video, audio and data via IP-based networks. Extremely low latency for independent streams of video, audio and service data also makes ASPEN ideal solution for use in industrial applications.
What today offers the market?
Aspen Community



A number of companies, including Evertz, Ross, Sony, Tektronix and Vizrt, agreed to use the ASPEN protocol. Evertz today offers a range of ready-made solutions SVDN (Software Defined Video Networking) - IP EXE and 3080IPX switches. The company Ross added to the lineup switchers Acuity 10GbE IP interfaces ASPEN that support and allows them to connect directly to the IP switches from Evertz.
AIMS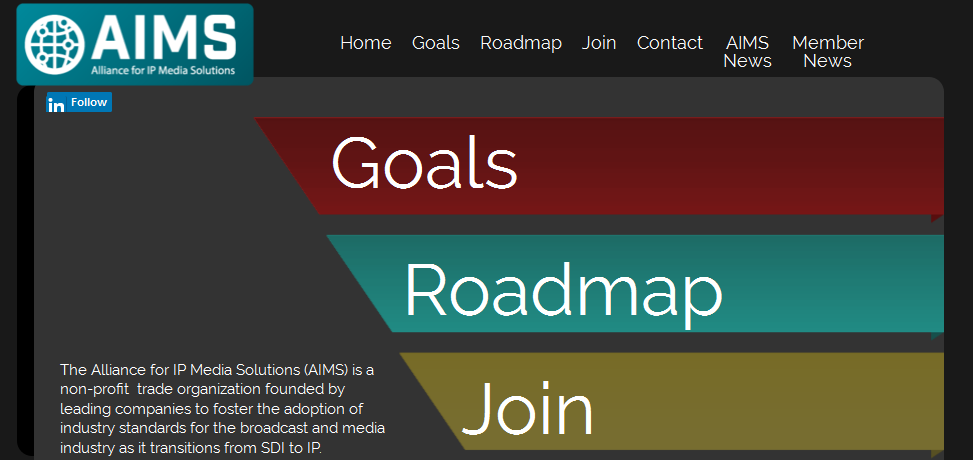 Group media broadcast integrators, including Grass Valley, Imagine Communications, Lawo, Snell Advanced Media and Nevion, in collaboration with each other and agreed to set up a protocol for IP solutions.
AIMS (Alliance for IP Media Solutions) is for the unification of IP solutions and the use of open standards: SMPTE 2022-6 (the most popular in the industry), AES67 (transmission standard audio over IP), TR-03 and TR-04.
Currently, the company Grass Valley offers a wide range of equipment that works in SMPTE 2022-6 standard (LDX cameras, switchers K-frame, video servers K2, Nvision matrix Kaleido multi-screen, etc..). In addition, AIMS supports compression TICO 4: 1 to 4K.
As a result.
Today we are seeing a surge of interest in the IP and, as a consequence, high competition among manufacturers of TV equipment in the promotion of a concept of transport of signals via IP technology.
Summing up, it is difficult to identify forward of TV-media among manufacturers of broadcast equipment and IP-based developers. The absence of a single recognized standard and competition among manufacturers for the perfect solution, only creates more lively interest. In turn, it speaks only of the rapid development of IP directions.